REBELS TROPHY
MAIN INFORMATION
- IPSC LEVEL III MATCH
MATCH INFORMATION
Match Name:  Rebels Trophy 2024
Level: III, Handgun and PCC
Divisions: Classic, Standard, Production, Open, PCC Optics, Revolver, Production Optics

Region: Slovak Republic
City: Komarno
Organizer: SK Hodkovce & Rebels
Match Director: JANETTE HAVIAROVA (SVK) & ZACHAR BYSTRIK (SVK)
Range Master: KURT KREUTZER (AUT) & PETER KOPUNEC (SVK)
Pre Match Date: June 6th to 7th 2024 (Thursday - Friday)
Main Match Date: June 8th to 9th 2024 (Saturday - Sunday)
Discipline: HG + PCC
Number of Days: 2 (all stages shot in 2 days)
Minimum Rounds: 420
Number of Stages: 21, Charity Event
Registration Deadline: May 31st 2024
REGISTRATION FEE
REGISTRATION FEE - 139 €, JUNIOR 70 € - Deadline Date payment/organisation – May 31th 2024
ON THE RANGE - 170 € only if We have free slots
SPONSORSHIP FEE FOR PREMATCH - 139 €
IF YOU WANT TO SHOOT BOTH DISCIPLINES (HG+PCC), please contact us by email: rebelstrophy@gmail.com.
System for shooting 2 disciplines: 1st discipline for scoring, second discipline for training-without scoring.
You can shoot second discipline only for "training" without scoring.
REGISTRATION FEE FOR SHOOTING 2 DISCIPLINES - 205 €.
SPEEDTICKET FEE - 200 € , please contact us by email: rebelstrophy@gmail.com.
Payment Info: IBAN: SK 2675 0000 0000 402 399 1810
SWIFT: CEKOSKBX
Account owner: Rebels
Address payments on account: Ceskoslovenska obchodna banka a.s., Michalska 18, Bratislava, Slovak Republic
In the field "Payment Details" fill in your name and/or REGISTRATION NUMBER you received during your registration. If you pay for more shooters, please write registration symbols of all shooters.
We kindly ask all competitors to pay the whole bank fee related to the wire transfer. In the field "Details Of Charges" choose "OUR".
However, if some shortage happens, the difference between the starting fee and actual money received has to be paid in cash at the shooting range.
TOTAL REGISTERED SHOOTERS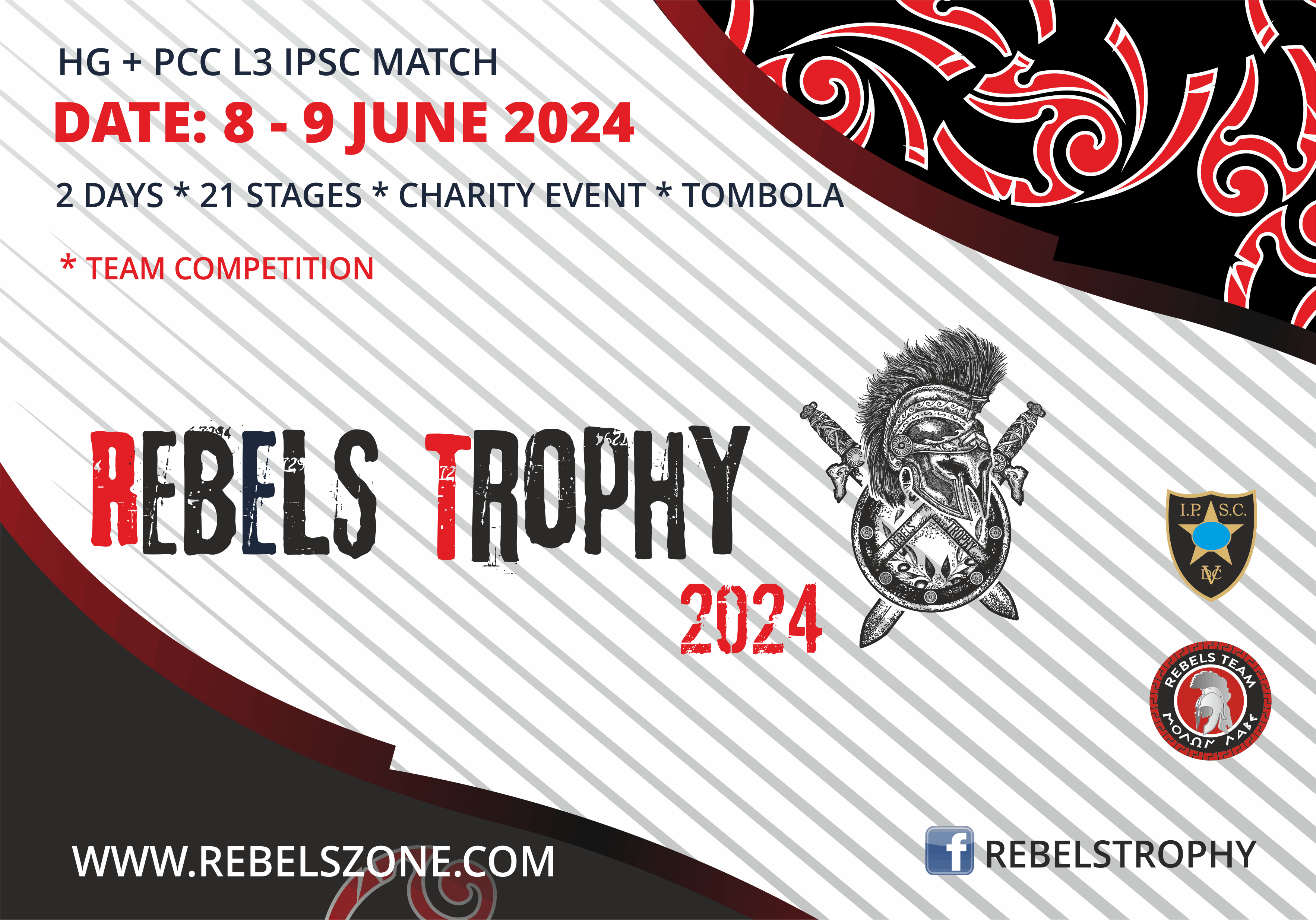 INVITATION BANNER REBELS TROPHY 2024
REBELS TROPHY 2023 TEAMS

Your match realization team.
Realization team REBELS ZONE of IPSC match.
We are very grateful for all people who worked hard on the realization of this project of match REBELS TROPHY.
(c) REBELS ZONE TEAM, code by Jesus.
WHO IS ONLINE
Právě přítomno: 81  hostů a jeden člen